Simplify Vehicle Diagnostics & Repairs With RepairSolutions2
The #1 Auto Repair App In The USA - 1.6 Million Downloads
"It works better than I expected. Wish I had this 30 years ago for vehicle issues. Almost makes it too easy. make them work a bit diagnosing! Good for those young folk."
5-star review from Michael Moore on Google Play
May 1, 2023
Save
Scans
Save unlimited scans to your phone. Access anytime, anywhere.
Easily view scans pre & post repair.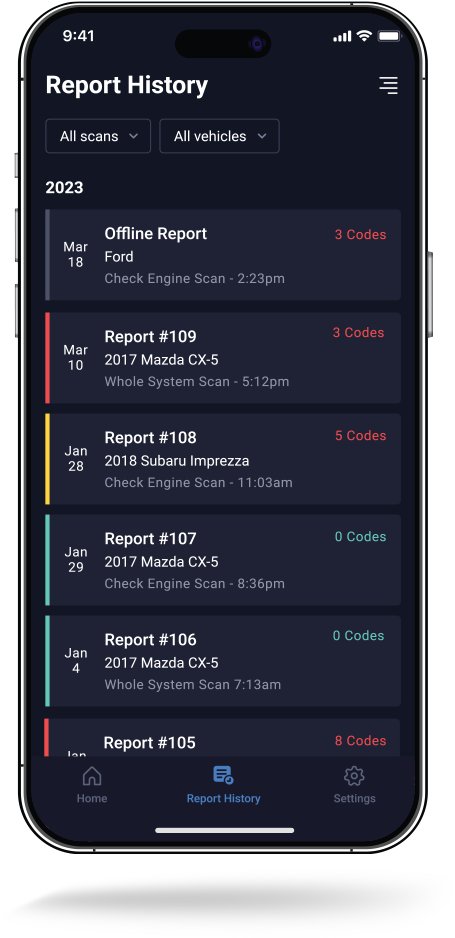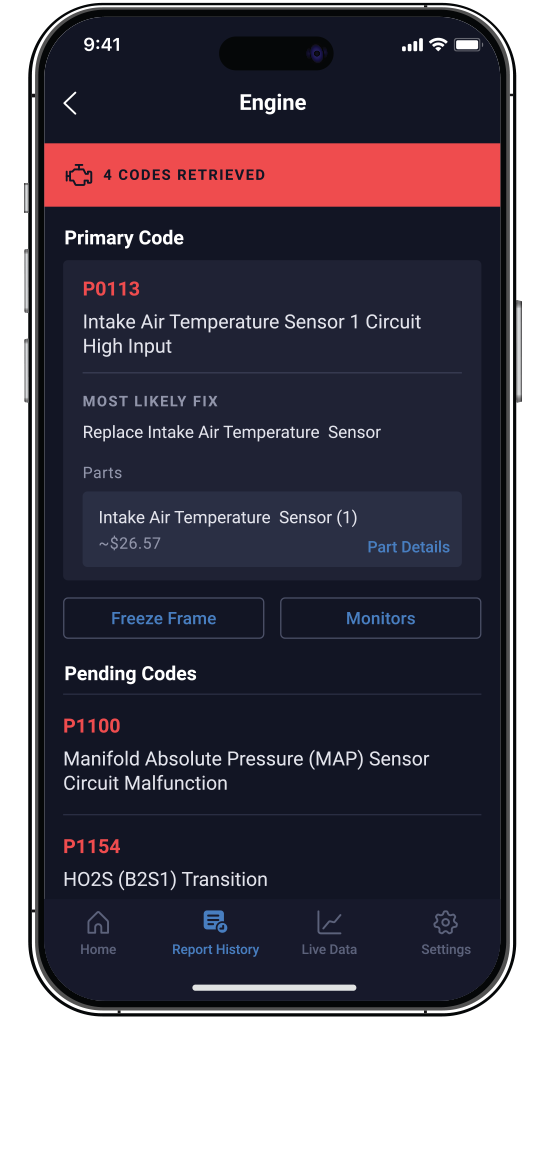 Get the Primary Faulty Part
Eliminate guesswork and save time with the app's smart detection of the primary faulty part.
Confirm with the tool's diagnostic features.
Get to the needed part in one tap from the app.
"This app has saved me huge $$$! ...it's helped me pin point exact problems instead of just throwing parts at the truck and hoping it works. I use this weekly on my own and have helped dozens of friends and family in just the short time I've owned it. Must have!!!
5-star review from Jeffry Lewis on Google Play
June 6, 2023
Easier
Vehicle
Care
View your vehicle's maintenance items.
See your vehicle's next likely issues and get ahead of a possible breakdown.
Access dealer recalls and step by step repair guides.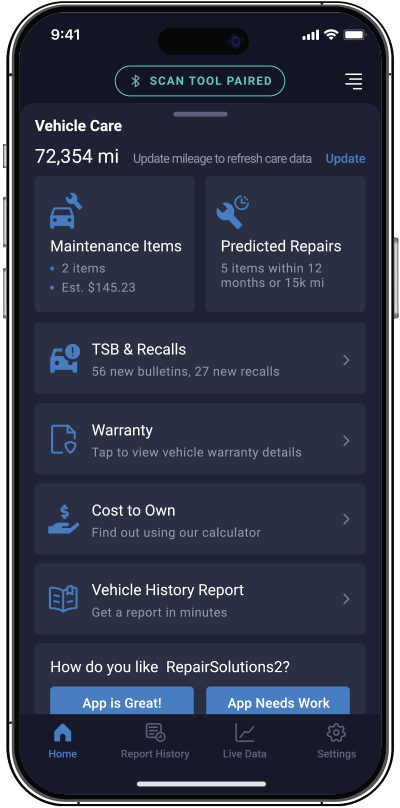 LOVE THIS APP SO MUCH!! EXTREMELY informative and helpful. I especially love the list of recalls and the step by step of how they go about repair it, with pictures!! Great job guys!
5-star review from Jenny B on Google Play
April 22, 2023
NO TOOL REQUIRED
Want to try the app but don't have tool?
No problem. The app works without a tool and you get all the
features below.
Maintenance Items
Stay on top of your vehicle maintenance through our in-app maintenance list.
Predicted Repairs
We tell you predicted repair possibilities based on your vehicle's make and model.
TSBs
We offer free technical service bulletins for your vehicle directly from OEMs.
Safety Recalls
Gain access to NHTSA safety recalls for your vehicle.
Warranty Status
View your vehicle's warranty status, conveniently saved in your phone.
Vehicle History Report
Access unlimited vehicle repair history scans and reports from anywhere, anytime. No need to take notes.
FREQUENTLY
ASKED
QUESTIONS ↓
No, the app is optional. Handhelds can be used without the app.
Yes. There are no hidden subscription or update fees.
There are no extra fees. There are no subscriptions. Updates are free.
No, we do not sell your data or track you.
We 100% do not track you, or look at your GPS location.
No, Innova is an American company that started in America and has stayed in the U.S. for the last 30 years.
No, RepairSolutions2 is only available for smart phones or tablets.
No, the app will not work. It is also region locked to Canada and US users.

The app requires a special code that is only available for current US and Canadian vehicles. This data is part of the data payload from the car and cannot be faked.

Even if users pretend to be in the United States, the payload from the car will confirm whether the vehicle is in the United States or Canada and will not operate for vehicles in other countries.
Get Real Support with Real Americans
Because only one person can be on one call at a time, our phone lines can get busy at times.
If you try chat, you'll reach someone.
Customer Service availability:
Monday-Friday 6am-6pm

Call us
+1 888-291-6890

Live Chat us
Click bottom right

Email us
Click here

Community
Click here
Availability may change during holidays.
As an American company that hires locals in-house, we want our employees to spend time with their families.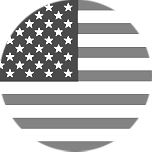 App Support
Looking for support on how to use the app?
Click here.